About Storage A-Go-Go®
A boutique Los Angeles storage™ service that is as unique as you are, Storage A-Go-Go® is personalized storage services that you design to fit your needs.
Between your moving boxes and your first shindig, you'll need a few extra hands to help you make your new pad ready to Go-Go! That's where we come in. The stylish boutique Los Angeles storage™ service, Storage A-Go-Go® offers everything from simple storage services to full service storage.

Our Go-Go Services can also include personalized packing, unpacking, organizing, furniture assembly and disassembly. Pack your own moving boxes or sit back sip your martini as your Go-Go Pros™ pack, store, deliver and set up your entire posh pad.
How does it Work?

Storage A-Go-Go® offers boutique Los Angeles storage™ services that you design. Between your jet setting, late nights at the office and movie star mingling, leave it to our Go-Go Pros™ to solve your Los Angeles storage needs. A Go-Go Pro™ comes to your home and picks up whatever you need to store, makes a detailed inventory and delivers your items to our Los Angeles storage facility.

Whether it's packing your tiki torches for the move; hanging your Warhol after the move; unpacking your martini glasses; moving or rearranging the Danish teak lounge chair; or assembling the prefab furniture, your Go-Go Pro™ can take care of all the details.
Once you Go-Go boutique, you'll never go back. Put down the screwdriver and pick up the phone. Ask your Go-Go Pro™ how he can make your moving day stylish and stress free 1-866-995-4646.
Go-Go+™ Services:

Enjoy a day poolside in the California sun, while your Go-Go Personal Assistant™ takes care of the details. Whether it's hanging your mod art; assembling your sputnik lamp; or taking your storage off to Storage A-Go-Go® Los Angeles Storage facility, your Go-Go Pro™ helps you keep your cool. Eco-friendly packing materials and personalized services are far-out, there simply is no comparison to other Los Angeles storage services.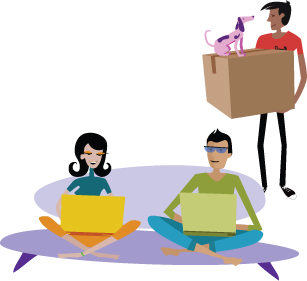 Don't sweat it another minute, keep your cool and give us a call.
Ask your Go-Go Pro™ 1-866-995-4646.